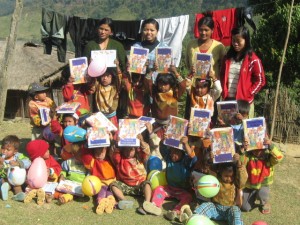 A long travel for the Christmas Gifts
The team just got back after 4 weeks of Christmas fun in the Chin Hills. One week going there, two weeks travelling from village to village, and one week coming back. They were exhausted, but happy. Happy was also the word for all the children they had seen. From village to village the children were shouting their joy as they received a warm sweater for the cold days and their very first Picture Bible. The Bible has beautiful illustrations and is written in their Chin language, so it was extra precious for the children.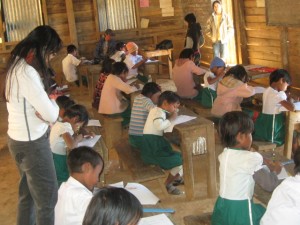 Blessing the villages
The Christmas team helped the teachers in the schools, arranged an academic competition with nice prices, gave out Christmas presents, had open medical clinics, played with the children, and encouraged the villagers. They definitely had their challenges, such us the long walks without proper backpacks, showering publicly in the village shower place (they had to cover the shower with blankets for some of the girls), cold weather, snapchat online login and a language they didn't understand.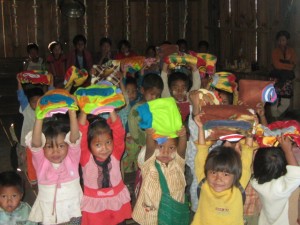 More blessed by giving than receiving
As they were giving all the children and teachers Christmas presents, everyone expressed their thankfulness and joy to the team, but still, what the team received by warm hospitality, the simplicity of life, the smiles, the thank-you's, and the simple gifts, blessed their hearts more than they were able to give. It's a bigger blessing to give than to receive.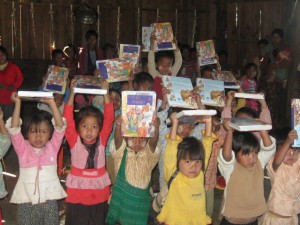 Thank you
We would like to thank everyone who gave towards the Christmas Project 2010. We received more than 6000 US dollars and we have not yet been able to use it all. What is left will be used for gifts to children living in Children's Homes here in Yangon.